'Hail, adventurer! Can it be true that you slew the Vampire Lord of Tanjar, as the minstrels sing? Please, I beg of you, rescue my daughter from the dread Necromancer King! You will not find me ungrateful. But first… you must TIDY YOUR ROOM.'
I've performed a lot of menial tasks in games over the years - for example, the starting quests in MMOs which make you deliver items to people on the other side of the room. Farcical though this might be, you can at least understand why. The game is easing you in, starting you off with small and easily completed assignments while you become accustomed to the mechanics. From time to time, though, you run across a piece of gaming design which really makes you stop and scratch your head. Software doesn't write itself, so someone must, at some point, have looked at a build of the game and said 'Yes! that's exactly how we want that feature to work'.
Recently I've been trying to finish
Divinity: Original Sin
. I love this game, I really do. It's the sort of RPG they just don't make any more. With a focus on exploration, party development and lots of statistics, it's clearly inspired by Baldur's Gate, but with modern-era visuals. The developers (Larian Studios) took a potentially risky - yet inspired - decision to make the combat turn-based, rather than real-time. This lends a more tactical aspect to each encounter, somewhat reminiscent of the original X-COM games and their predecessors, though rather more up-close and personal.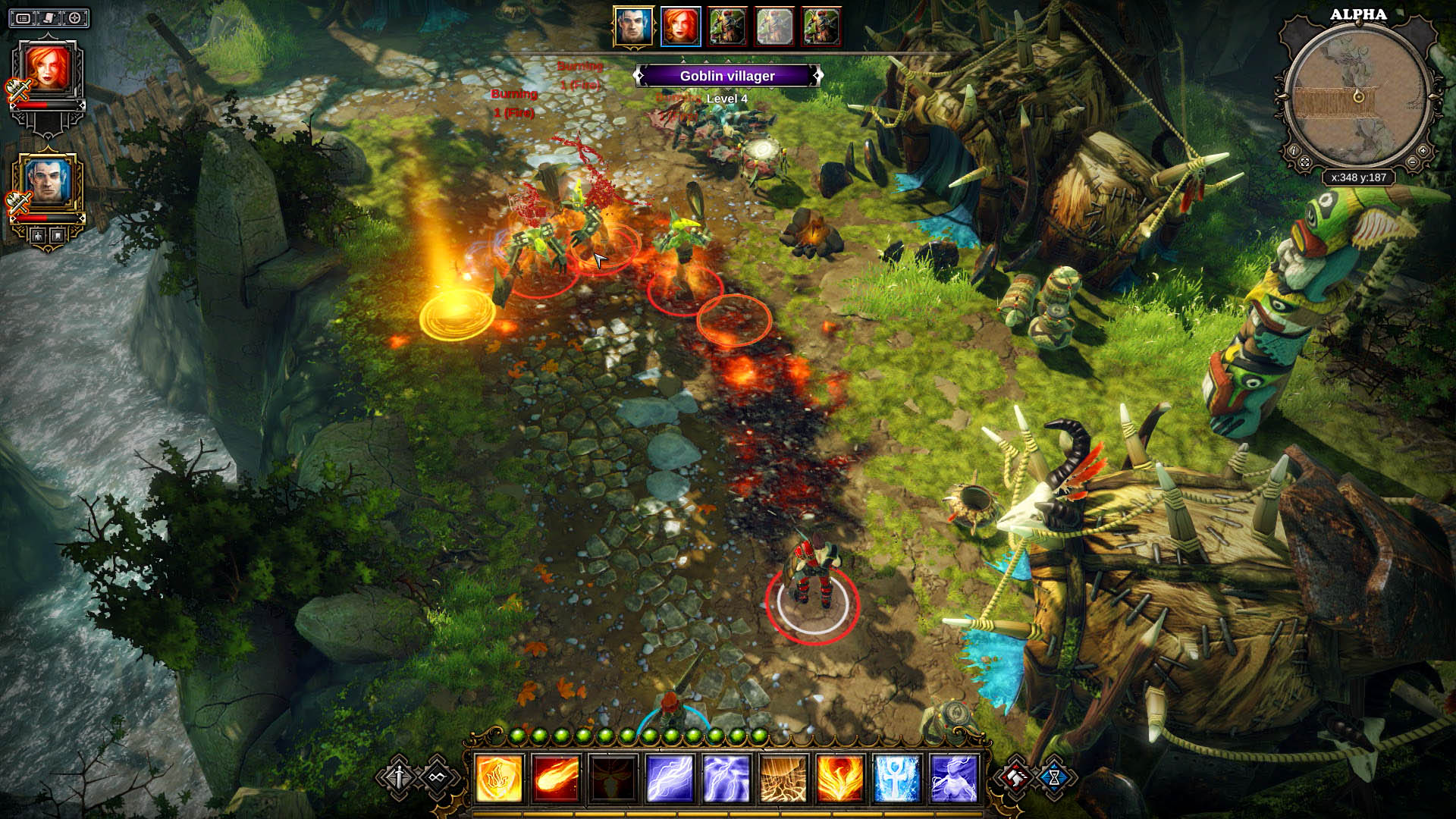 Divinity: Original Sin. It's pretty.
Here's the thing, though. If you're making a homage to classic RPGs, obviously you'll pattern your interface after those titles, and include lots of features that will make fellow fans feel right at home. Original Sin does this a little too well. I was perfectly happy to wander round the starting town for an hour or more, chatting to the townsfolk, not fighting anyone and not advancing the story. I'm delighted by multiple dialogue options. I'm even OK with the agonizing paralysis that grips me every time I gain a level and can't decide where to spend my ability points. But I do object, most strenuously, to old-school inventory management.
Remember when you were told to clean up your bedroom as a child, and you employed the time-honoured tactic of stuffing all of your clutter into a wardrobe? That's what your inventory used to be like in the days of classic RPGs. Everything you found during the course of the game was deposited in a huge messy heap on your inventory screen, leading to eye strain as you struggled to make out which item was which from a series of tiny icons. Original Sin has copied this slavishly. Right down to pointless minor irritations, such as items which won't stack despite having the same name and picture, dozens of potions which all appear virtually identical, and essential quest items jumbled up together with everything else.
There are a few concessions. When you pick up an item, you do have the option to send it to a particular character. Moving stuff between your characters is fairly easy. You can apply filters to the inventory screen, to show (for instance) all of the usable equipment a character has on them. But for every step towards user-friendliness, there are two back. There's no central pool of money. You can't unlock a door unless you're controlling the character who has the correct key. You can't identify or repair an item unless it's in the right person's inventory. On the trading screen, you can't sell one party member's items at a time, and you can't access anything inside a bag. There's no option to use a special arrow in combat - it has to be selected manually from the inventory screen. And then there's the fact that there are hundreds of different items in this game, and despite the filters, no easy way to organise them.
Screens and screens and screens just like this one.
The classic RPG's heyday was a decade and a half ago. I'd like to think we've moved on a little since then. I'm sympathetic to the notion that games nowadays are 'dumbed down' for a generation of gamers accustomed to spoon-feeding, but come ON. I play games for fun. Spending 10 minutes hunting through four screens and multiple bags is not fun. It's work, and dull frustrating work at that. It's reminiscent of trying to find something when you've just moved house, and everything you own is packed into identical boxes.
To be fair, this isn't the only game which gives you an inventory like a Gormenghast attic. Skyrim's system, for example, was legendarily awful (though easily fixed with third-party mods). However, Skyrim had the benefit of a slightly less awkward crafting system. Original Sin, sadly, takes a very simple concept (drag one item over another) and then makes it as hard as possible to find the items.
Please don't misunderstand me. Divinity: Original Sin is a stone cold classic. In every sense, it's a throwback to a golden era - in every sense, even when it clearly detracts from the gaming experience. Such attention to detail is certainly impressive, but in this particular matter, I could live without it.